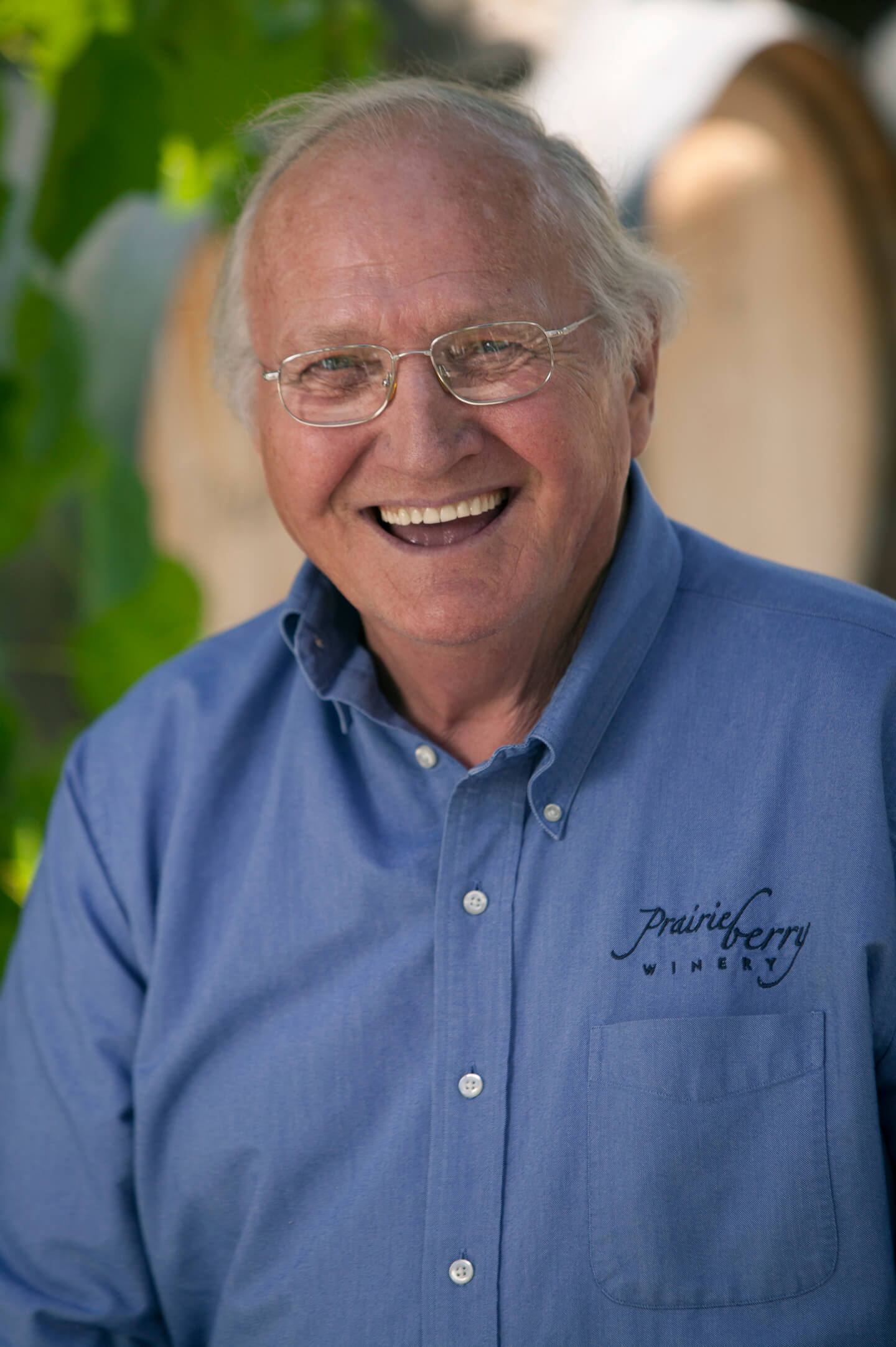 A Tribute to Ralph
After a courageous battle with cancer, Prairie Berry Winery co-founder Ralph Vojta passed away on March 16, 2017.
Ralph grew up picking the wild "prairie berries" with his grandmother in Mound City, South Dakota. There he learned the family's tradition of winemaking that was handed down from his great-grandmother, Anna Pesä.
Ralph with his daughter Sandi Vojta and her husband, Matt Keck, turned the family winery into a commercial venture in 1999. Prairie Berry Winery became South Dakota's second commercial winery and was named after the prairie berries that Ralph found growing up as a child.
Prairie Berry Winery moved to its current Hill City location in 2004. In 2013, the "three amigos" as they were called, opened Miner Brewing Company in Hill City. A year later in 2014, Prairie Berry East Bank in Sioux Falls opened.
Ralph was an important part of the Prairie Berry company and the South Dakota winemaking community. His knowledge of local ingredients and tremendous sense of humor led to some of our best-selling wines.
The unique wines that he helped create and name also honor him. They include our most award-winning wine, Red Ass Rhubarb, as well as 3Rednecks, Lawrence Elk, and Uncle Ralph's Rhubarb.
If you so wish to honor Ralph's memory, donations can be made in Ralph's honor to www.madeforshadesd.com.
"If there ever comes a day when we can't be together, keep me in your heart, I'll stay there forever."
~ Winnie the Pooh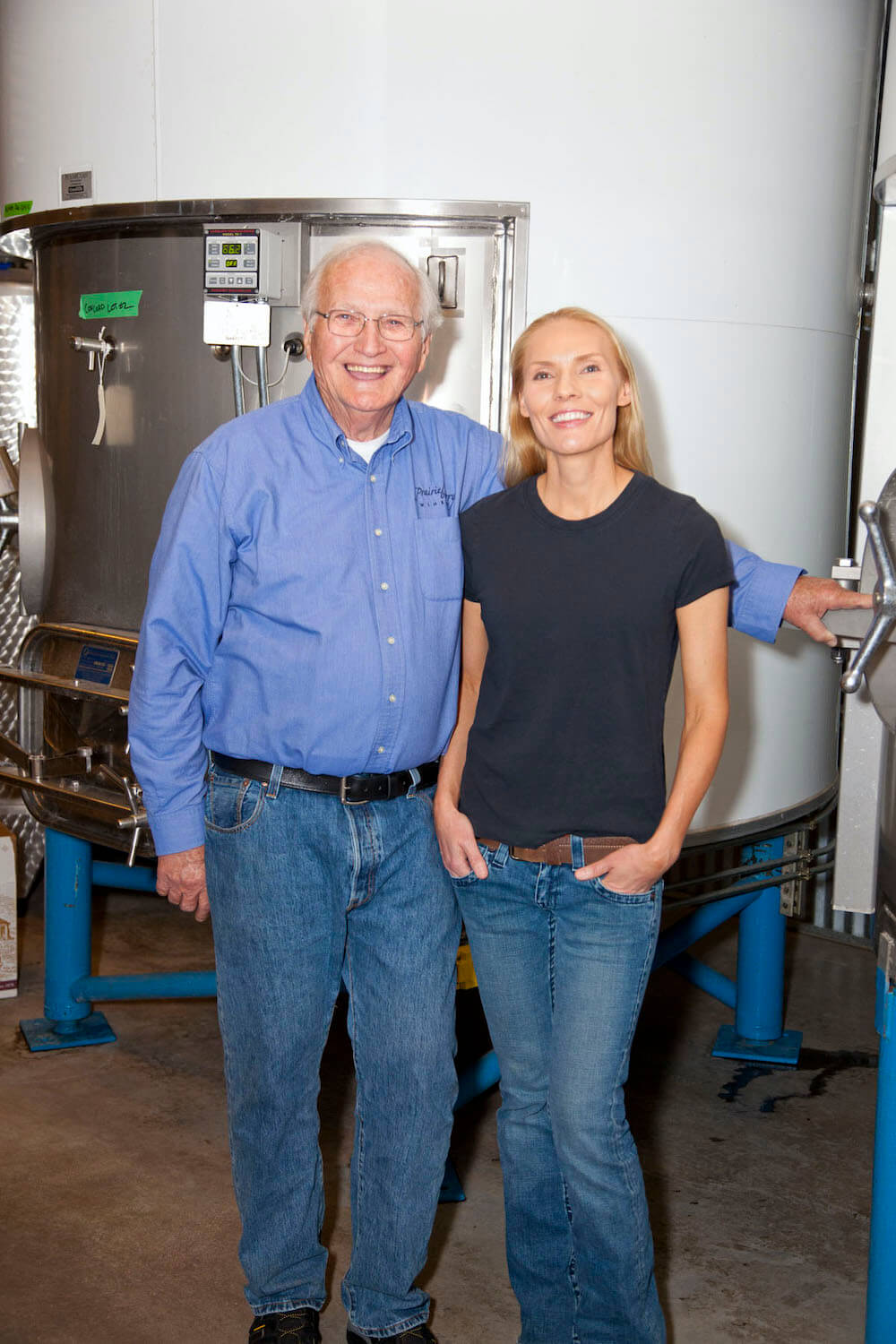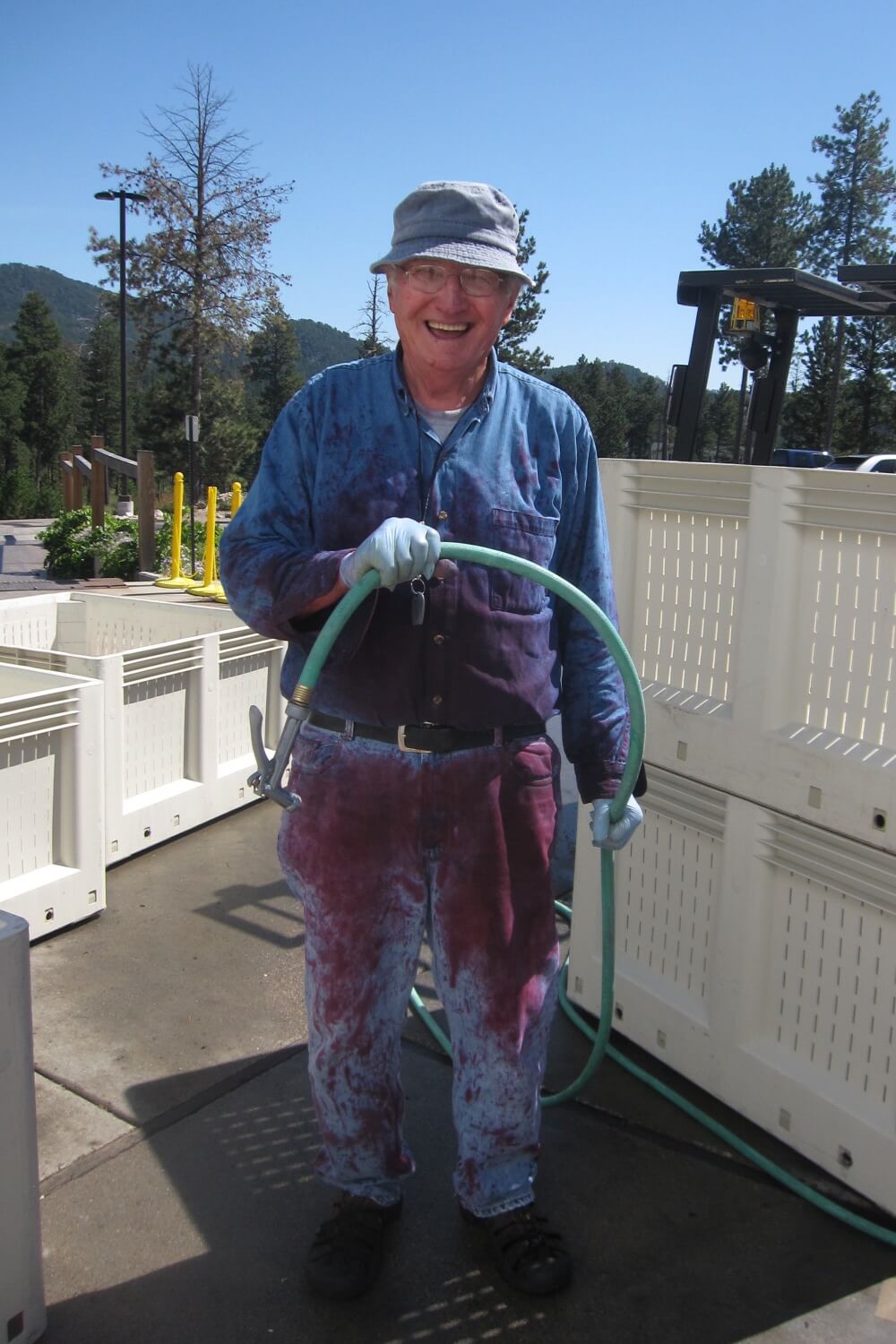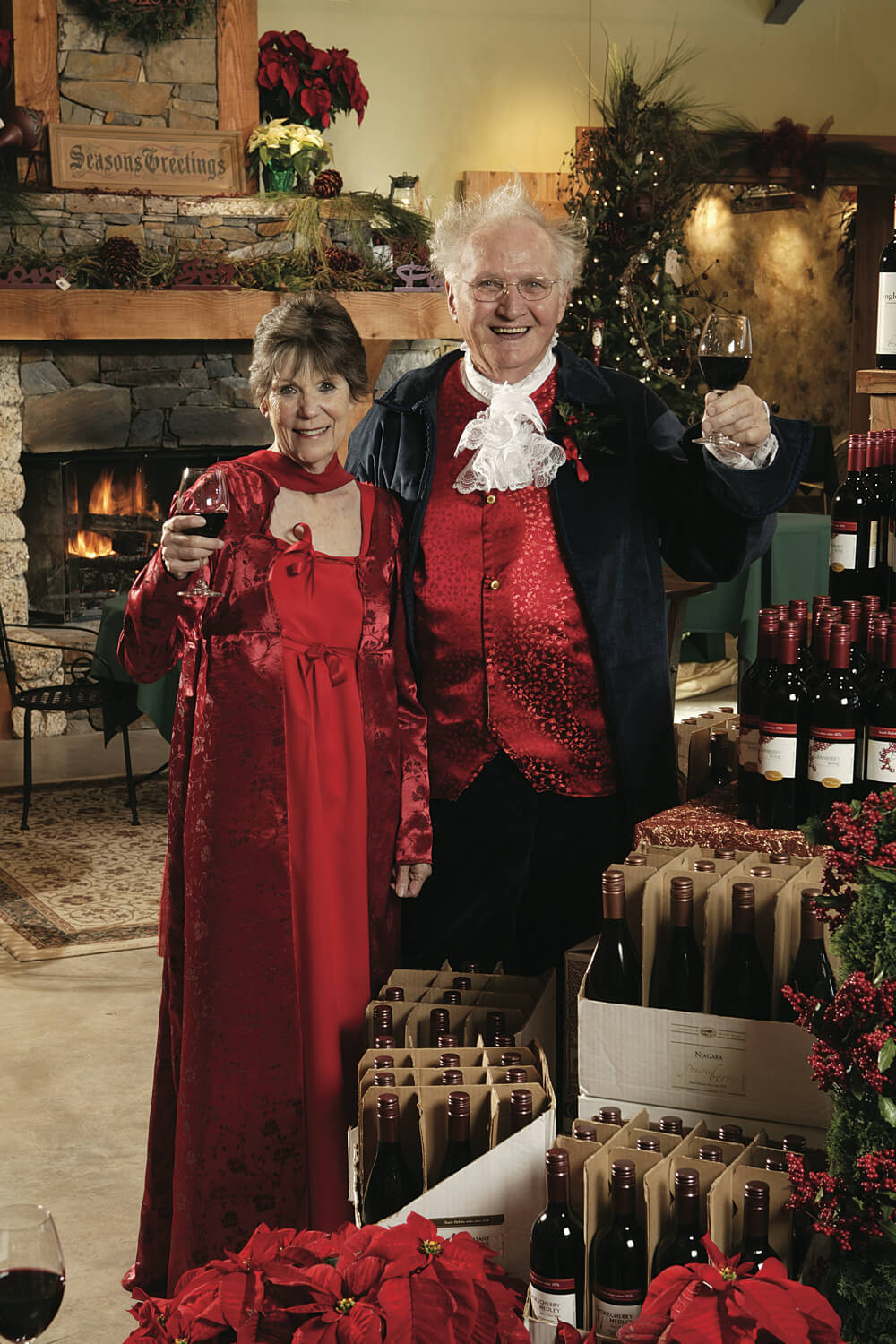 Memories of Ralph
Stories were important to Ralph, and he was one of the best storytellers we knew. We were thrilled so many people shared their favorite stories of Ralph and how he impacted their lives.
Sharon MartinezMay 24, 2017
I love this awesome Wonderful loving man his was always good to my family he always had a big smile on his face when we came to see him he always had a story to tell us he was always happy to the kids work so hard he will tell my dad he had some hard working kids &grandkids my kids just loved him so much how we are going to miss him much love to his family he was a good good man with lots of love in his heart we will always love & remember you Ralph sending much Martinez love.
---
Cindy CragoMarch 24, 2017
Several years ago, Ralph gave our family a first class tour of the winery. He shared various facts about the berries and wines, history of the winery and words of wisdom. He was a gracious host and memorable character. He will be greatly missed by many.
---
Josh OlsonMarch 24, 2017
We had great times with Ralph, one occasion we were buying a few bottles of Uncle Ralph and he was walking by, I thanked him for bringing Heritage back and asked for his autograph on a bottle of Uncle Ralphs, he did so and then told us that that wine needs to be drank because it will never get better. So we have saved that empty bottle and enjoyed the story with the bottle. Thank you Ralph.
---
Jason KoppmannMarch 22, 2017
I have known Ralph professionally and personally for 17 years and in all those years he always had a kind word and a smile when we were around him. Whenever he came to see us at North Western Warehouse, he would bring gum and a hug for my office assistant, Debbie and maybe a homemade jar of his salsa for the guys. My wife and I will miss seeing him at the winery, there to greet us with a welcoming handshake. A big THANK YOU, to Ralph, Sandi and Matt for their many years of local business and friendship. Ralph will be dearly missed by us all.
---
Lisa ArchambeauMarch 22, 2017
Ralph would stop by to visit the Archambeau family when he came thru the Marty SD area. He was inspirational and although I only saw him a handful of times, he made a lasting impact. What a positive spirit with a great sense of humor. His legacy lives on.
---
Carol McCollamMarch 22, 2017
Ralph's legacy will forever live on through Prairie Berry Winery, But Ralph's warm smile and firm handshake always made my day a little brighter. He was a great guy and was so proud of Sandi and Matt.
---
Jeff StewartMarch 22, 2017
Ralph came to our farm near Wagner, SD in September of 2016 to pick up some black currant berries we grow and sell. We grow aronia berries black currants and haskaps and Ralph was very interested in them all. He wanted to see our bushes and we gladly showed them to him because of his keen interest. Ralph sat our picnic table and visited for about 2 hours and we shared one of the bottles of wine he had brought for us. He shared many stories with us which we loved to hear. He stayed in Wagner and came back the next day and we loaded up the black currants for him. He also bought about 50 lbs. of aronia berries for the winery to experiment with. So sorry to hear about Ralph and we will miss him.
---
Chrystal M.March 21, 2017
I never knew Ralph, but I've visited the Hill City winery, a few times, & tried several of wines, he made famous. My favorite is the Red Ass Rhubarb!!! Bravo Ralph! Your expertise will continue to bring joy to generations! A wine-making legend! (A Fan for Life! - Lincoln, Ne.)
---
Don/Joan JonesMarch 21, 2017
We shared but a short one season at PR and met Ralph and his lovely wife and crew at PB. We spent some time on the floor with Ralph and he was informative and very kind to the new guy in town. He made us feel very welcome.....There will be a BIG void in his passing. Don had cancer and he shared some very important time with Ralph.... Our prayers are with the family and the entire PR team.
---
Colby SmithMarch 21, 2017
Ralph humbly took such pride in the family of business he has built with Sandi and Matt. He could often be found caring for the property, either out on the lawnmower or tending to the flowers. I remember getting my first tour of the winery from him when I began working for Prairie Berry, and hearing his stories along the way was so inspiring! He had a way of making everyone feel like family. The thought of Ralph's contagious smile will always brighten my day.
---
Anne EdmundsMarch 21, 2017
This past summer, visiting from Michigan, we stopped at the Hill City Winery early in the morning to pick up another bottle of Red Ass Rhubarb wine after finishing the bottle I had purchased the day before at the tasting room. We were there a bit early before the doors opened, but this gentleman watering the flowers told me to go ahead - no problem. I jumped off the motorcycle and went inside to purchase some more wine. While inside of course my husband and father in law started up a conversation with the gardener and when I came out of the winery - they had already made a friend. My husband told me I had to give him a hug as he was the one that made the mistake that was my new favorite wine - Red Ass Rhubarb. I not only got a hug, but a signed bottle and a wonderful tour from one of the nicest man I've met - Ralph. When I got the email that he has passed - my husband and I both poured a glass and toasted him. "To the angels among us, til we meet again - peace."
---
Charleen BishopMarch 21, 2017
Did not know Mr. Vojta personally but I sure do enjoy that Rhubarb wine... God's blessing of peace and provision through this difficult time.
---
Kevin CarrMarch 21, 2017
Several years ago, we had visited Prairie Berry winey and met Ralph who was greeting customers and signing a line of wine. Out of the blue he ask my wife and I if we wanted a tour of the facility. For the next 45 minutes we got the inside story and the cook's tour of the whole operation from him. That has always been one of the great memorable moments in my travels. Love your wine too! Hinckley, MN
---
Bud OlsonMarch 21, 2017
When you had the privilege of Ralph's presence you knew you were in the company of one of those "angels" that walked the earth. He had a spirit that lifted you up and carried you to your next visit with him. I will always be grateful for how he loved the people who worked "with" him. I am especially thankful for his company in the tasting room on Sundays. We had so much fun greeting and telling the Prairie Berry story. A story of family, a story of humble beginnings, a story of love. I know I have not met a person in my life that was as kind, generous, and humble. I will miss driving by and not seeing Ralph on his mower or working around the property. He was a great person to know.
---
Nicole M.March 20, 2017
While working at the winery Ralph always came in smiling. He made everyone feel welcome. My first summer there I was helping on the bottling line and Ralph worked with me to show me how to load all the bottles. After working for a bit he let me take over. I put my own take on the process and he just watched. After that day he told me that no one had ever done that before. It made me very proud. Every time I saw him after that he would give me a smiling hello and a hug and ask about my family. He always brightened my day and will be deeply missed.
---
Darrell and Kay GillMarch 20, 2017
Ralph and his wonderful family lived across the street from us many years ago, providing our son, Shawn, with his lifetime pal, Pat. Ralph was always so friendly and quite the visitor. It was obvious that Ralph would be in his element when Prairie Berry Winery was born. His expertise at wine making and making everyone feel comfortable in his presence came so natural to himOur condolences to Pat, Susan, Sandi and all family members. Our love and prayers are with you.
This world is a better, brighter place because Ralph touched so many lives.
---
Patrick RoselandMarch 20, 2017
I remember Ralph always with a smile on his face…..a big smile. He always reached out his hand and shook my hand firmly. Ralph was always happy to see his friends walk in the winery(every one was his friend) and made us feel comfortable. his laugh was infectious. I have a bottle of wine with his signature on it, I have treasured it since received it. It is still unopened, and will most likely remain that way. I will miss him.
---
Charles and StacyMarch 20, 2017
Our family visited the Prairie Berry Winery in Hill City in 2009. Ralph was there helping out at the wine bar in the early afternoon (inspecting something…I believe). We struck up and had just a very friendly and enjoyable conversation with joyous and affable man. He served us a glass of the Redass Rhubarb wine and was incredibly generous by giving us a free bottle. When we were ready to check out, we insisted on paying for the bottle (among all of the other bottles we purchased that day) and he insisted that it was his bottle to give because it was his winery and that it was a gift to us and our beautiful family. We were very humbled and grateful for his kindness and generosity. Since that day, we always make sure that we have a bottle of Redass Rhubarb wine on hand. When it runs out, we order up a few more boxes, not only because we enjoy the wine (that goes without saying), but because it reminds us of the happy impression Ralph had on us.
Our condolences to Ralph's family and community.
---
Dallas VammerMarch 20, 2017
I remember having Mr. Vojta as a substitute teacher in Glenham, SD approximately 40-45 some-odd years ago. He was a wonderfully friendly and kind man. My visual memory of him is this wonderfully gregarious man with this huge ear-to-ear John Wayne-esque smile that I'll never forget!
Rest in peace, Sir, and my heart-felt condolences to your family
---
Nancy Anderson-SmithMarch 20, 2017
I was touring a friend of a friend who was from Pittsburgh through the Hills. We pulled into Prairie Berry and proceeded with a tasting. Ralph came up to us and put his arm around Barb and whispered, "That one is named after me!" During the next twenty minutes, he proceeded to tell us jokes and stories, all while grabbing the tasting bottle from our helper and telling her, "That's not enough!" a couple of times! Barb left with a bottle of Uncle Ralph's under her arm…quite tipsy. (Thank goodness I was DD!) We both were so happy to have shared joy with this man! The best part of the whole brief encounter was Ralph telling me about starting in the wine business…that he didn't know much, but what he did know was that he would do anything for his daughter.
---
Jane BeisnerMarch 20, 2017
Ali, my daughter and I loved talking to Ralph. His smile was contagious. You had to be in a good mood when talking with Ralph. He told us once how much he liked that Ali and I worked together at PBW and reminded us that he worked with his daughter too! I wish we were in town to attend his service and show our respect for this awesome man. We are both thinking of you all and missing Ralph.
---
Angie ThomasMarch 20, 2017
Ralph was such a good man, it is really sad to hear of his passing. We bonded over gardening stories and shared extras from the harvest with each other. I always loved seeing him around the winery and on his lawnmower, he always had a big smile and a hug to share. My condolences to the family and to the extended Prairie Berry community, past and present. Ralph will live on in every bottle of Uncle Ralph's Rhubarb Wine, and hopefully the story of pouring the raspberries into the rhubarb will be told near and far–"My face turned red and I felt like an ass!" Hilarious. Much love, Ralph. You were one of the greats.
---
Jason HoferMarch 20, 2017
When we would visit Prairie Berry and see Ralph either already talking with a guest (which was usually the case!) or slipping between everyone, we would always do our best to shake his hand and see that familiar smile and genuine smile – he was such a fun person to talk with and always had a story to share! Our sincere condolences to Sandi, Matt and the entire Prairie Berry family – Uncle Ralph will be missed but will always remain in our thoughts and hearts!
---
Laura SchluckebierMarch 20, 2017
It was always a joy to see Ralph on the Prairie Berry campus. He had a special way of bringing cheer to people. I will always remember how welcome he made me feel on my first day.
---
Angela AvilaMarch 20, 2017
After hearing one of Ralph's many captivating stories, I remember always saying, "I would love to have Ralph at my Thanksgiving Dinner Table." He connected with everyone he met and had such a positive outlook on life. I am thankful for what Ralph built with his family. Prairie Berry has become a large part of my life and I know I wouldn't be here without Ralph. He was a treasure of a human being.
---
Charles BrownMarch 20, 2017
Ralph and I grew up next door to each other in Glenham and went all the way through school together, needless to say in we had many adventures in all those years. When we were seniors in high school, we ran a mink trap line that was 31/2 miles long, we had to walk it every morning which made us 11/2 hours late for school for two months. We obviously had favor with the principal because he gave each of us a mouse trap for Christmas. We also made $900.00 each, maybe this was Ralphs first indication of being a successful entrepreneur. He has been a loyal friend for all these years and will be greatly missed.
---
ElaineMarch 20, 2017
A true treasure. We so enjoyed his positive attitude. Something he said to my husband and myself that still makes us smile was that we should come and work at the winery. We are over 70.
---
Kayleigh SchmidtMarch 20, 2017
It was my first summer at the Winery and Ralph was bringing around a large group of people, which is really nothing new. They all came to check out with carts of wine while I was gearing up for large amount of boxes I would need when Ralph came around and logged into the computer. He told me not to peek at his password with a laugh and told me they're all family! There were a few issues with getting everything processed, but things were figured out and Ralph didn't care how long things took as long as everyone was enjoying themselves. He always had a smile on his face and would come over to chat with you and give you a hug. He definitely made the new hire orientation bit with his tour of the production room. The Winery was always a little bit brighter when Ralph was around.
---
Judy BuchmanMarch 20, 2017
I encountered Ralph's kindness the first day I came into the winery for my interview. He was out in the lot gardening and said good morning and wished me good luck on the job. From that day forward he was not only someone I hugged every time I saw him but talked and listened to his stories with excitement when he came in. His smile was always showing along with his pride for the company and the love of people. He will be missed on those busy days when he would come in and take a huge group on a tour to help thin the crowds in the tasting room. The sweet, warm, and just all around wonderful man will never be forgotten.
---
Lance & Kaye VanderVorstMarch 20, 2017
While visiting the winery several years ago, my husband and I struck up a conversation with one of the staff while waiting in line to check out. After learning that my husbands grandmother was from the Mound City area, the Prairie Berry employee insisted that we meet Ralph! As a history teacher, my husband thoroughly enjoys hearing stories of days past – especially the days of the area we now call home. Ralph stopped what he was doing and gave us a personalized tour of the winery and told us stories of growing up and starting the winery. We knew several of the people that he spoke of because we currently live in Herreid, SD – just 8 miles north of Mound City. Needless to say, our quick stop at the Winery to pick up our favorites, turned into a several hour stop as we enjoyed story after story that Ralph shared. This was the most enjoyable part of our weekend in the Black Hills! Ralph sent us on our way with a stack of business cards to pass out at "home" so that others would stop in to visit at Prairie Berry. We are very sorry for your loss ~ Ralph has left a remarkable legacy.
---
Harley OversethMarch 20, 2017
When Ralph lived in Mobridge on 4th Ave West, my Mom had a home across the alley. One day I was cutting my mom's lawn and I saw Ralph outside hosing out these huge white barrels. I yelled across the alley "What are you doing Ralph, Building a bomb" This was shortly after the bombing in Oklahoma when the story was the bomb in that tragedy was made in barrels and driven to the site. Ralph yelled back "come over here and I will show you what I am doing". He took me into the house and showed me his wine making system and told me the story of trying to duplicate the wine his Grandmother made. He told me stories about his grandmother serving her wine to the family. He insisted I try a glass, one glass led to another and after enjoying the stories and the wine Ralph sent me home with several assorted bottles full of wine. I never did finish the lawn mowing that day but will treasure the time spent visiting with Ralph. I did get a personal tour from Ralph of the Hill City Winery and enjoyed that day very much. He was a charming man and will be missed.
---
Mary Jo AndersonMarch 18, 2017
What an honor to work with Ralph the little I did! He was the best example to have fun @ work!
---
Bill StickneyMarch 18, 2017
He was a teacher…a mentor and a friend for over 40 years…the memories of his smile and laughter with be with me the rest of my days.
---
Lonnie BurnhamMarch 18, 2017
Talking with Ralph when he made a delivery, was always a highlight. He talked of mutual friends from Mobridge to Gettysburg, shared memories of picking Buffalo Berries, and growing up on the South Dakota prairie. Ralph was a pioneer in the industry, and a great friend.